Fun, educational computer classes for pre-schools and nurseries
ComputerXplorers provides innovative age-appropriate fun weekly computing classes for pre-school children across South Lanarkshire, North Lanarkshire, Glasgow, Scotland, East Renfrewshire.
It's an all-inclusive package providing our own trained technology tutor, the best regularly updated software, the hardware (we bring our own laptops and ipads or tablets), innovative peripherals such as programmable toys and, of course, our own unique lesson plans.
Computer and technology classes are the ideal complement to a nursery's activities and add value to the service a nursery provides to its parents.
Children receive excellent input from their trained PVG-checked tutor in very small groups. The perfect way to enhance their technical and motor skills while improving their social skills with team work and collaboration and essential skills such as sequencing, problem solving and critical thinking.
In the words of the HMIE publication Improving Scottish Education: ICT in Learning and Teaching (2007),
'… staff in pre-school centres and in primary schools recognised that learners developed awareness of the world in which they live more effectively when this included engagement with the world through ICT.'
Mastering technology skills at an early age creates children who are e-confident and competent – a great head start to their education, keeping them a step ahead when they start primary school.
As an organisation we have been providing technology classes to preschool children for over 30 years! It's where we started. With all of that experience we really understand how preschoolers learn. ComputerXplorers is the perfect partner to help you keep in line with Curriculum for Excellence (Early Years) and ensure your pre-school stays at the front of the field.
Talk to us now about introducing ComputerXplorers to your nursery.
---
ComputerXplorers exemplifies best practice in computing for pre-schools and nurseries
The ComputerXplorers approach to Early Level technology
Our educational technology experts design computing and technology classes that challenge pre-school children yet set realistic expectations for performance. By understanding the latest technology trends, the demands of the Early Level of Curriculum for Excellence and what children should be able to accomplish, we can deliver sessions that give children the best computing experience, a terrific headstart and enormous fun.
Technology exploration for pre-schoolers ignites curiosity and enthusiasm for learning and computing
ComputerXplorers' approach to technology exploration for pre-school children ignites the child's curiosity and enthusiasm for learning and the world around them - we prepare children for the future.
Themes covered across the ComputerXplorers programme for pre-schoolers include science, music, literacy, numeracy, creative arts and, of course, technology.
Weekly parent updates keep parents informed of progress and suggest additional activities for their children at home.
We provide trained instructors, lesson plans, the software and extraordinary technology peripherals created especially for pre-school children. Our programmes can be tailored to a nursery's individual requirements and are always fun, educational and engaging.
---
ComputerXplorers computing classes for nurseries meeting the Early Level requirements of Curriculum for Excellence
Our classes for pre-school children are designed to help you meet and exceed the needs of the Early Level of Curriculum for Excellence in your pre-school setting. They have been created to ignite children's curiosity and enthusiasm for learning.
ComputerXplorers children develop a confidence and enthusiasm for technology which will stay with them as they progress. But it's not only about the technology or computing skills. The additional benefits of the ComputerXplorers programme for pre-schools - both developmental and educational - will keep them a step ahead.
Themes covered across the programme include science, personal health and wellbeing, music, literacy, numeracy, expressive arts, social studies and, of course, technology.
Communication and Language Development


Small group work provides plenty of opportunities for speaking and listening, asking questions, using non-verbal communication and developing confidence in expressing themselves.

Physical Development


Coordination, control and movement improve as children manipulate the mouse and work with a variety of peripherals.

Personal, Social and Emotional Development


Emerging social skills are nurtured in our small groups with turn-taking and collaboration. Concentration increases as children's confidence in their own abilities grows.

Developing Literacy Skills


A wide range of our computing activities encourage children to link sounds and letters and develop pre-phonic skills. Children are highly engaged in the fun, educational activities.

Developing Numeracy Skills


Many ComputerXplorers activities enable the children to develop and improve their skills in counting as well as working with shapes, space and measures.

Understanding People, Place and Environment


We use a range of computing activities and technology to explore 'real world' topics including our bodies, 'myself and my family', nature and the environment etc. Our technology allows many opportunities to simulate the outside world.

Expressive Arts


Creativity and imagination go hand in hand with all ComputerXplorers classes. Technology provides the perfect medium for preschool children to express themselves whether through a wide range of graphic arts programmes or our music creation class or even movie-making. Even the youngest of children can become creators of technology and not simply passive consumers - it's a great start!

Technologies
Early Years children love using technology creatively to increase their learning and development across all other areas. For example they develop problem-solving strategies, navigation and co-ordination skills as they play and learn with software, apps or programmable toys. Through discovery, natural curiosity and imagination in ComputerXplorers' Early Level classes, preschoolers discover what technology can do and how it can help us.

---
With ComputerXplorers nursery children will:
Learn computer skills
Reinforce academic skills (numeracy/ literacy)
Increase self-esteem and confidence
Increase social skills
Build a technology vocabulary
Use high-tech tools (programmable robots, digital microscopes, cameras, ipads)
Develop a confidence and enthusiasm for technology
Work in small groups of 3 or 4 children with the dedicated support of a trained, PVG-checked professional
Receive weekly Parent Updates to keep parents up to speed with class activities and progress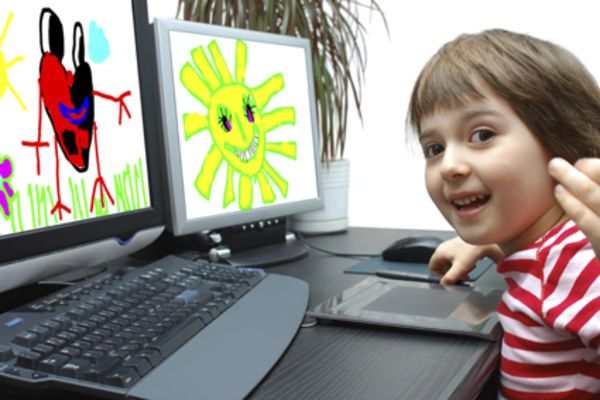 ---
What else we do...