CSR partnership with leading utility provider to deliver community computing workshops
ComputerXplorers has been working with Utilita, a leading energy supplier, to offer a series of technology workshops as part of their Lightbox Project - a free community initiative offering drop-in workshops open to all, encouraging children to learn through play.
---
Over the six day event, ComputerXplorers ran a series of technology workshops which included Video Game Design using Xbox controllers, Minecraft, Lego Robotics, 3D colouring in using Augmented Reality and electrical circuit building using our Snap Circuit kits. An exciting mix of interactive education and technology fun.
Community outreach programmes in action in Scotland
Hundreds of families, over the course of the six days, got hands on with our workshops with some fantastic feedback.
"On behalf of the marketing team I just wanted to thank you both and your team for all your expertise and help over the last three Lightbox Projects in Scotland.
The feedback has been great! And we look forward to working with you and the company in the future."
Lauren Saunders, Marketing, Utilta
If you are looking for ideas to engage with your local community or improve your CSR (Corporate Social Responsibilty) programme, give us a call. Computing and technology are perfect for children of all ages and work well at family and community events.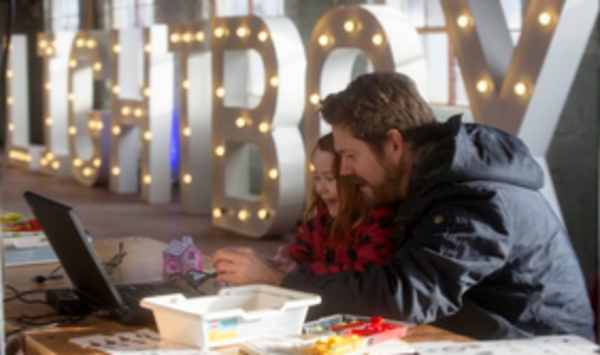 ---
What else we do...